We have collected testimonials from some of our staff here at Maple.
This is what they have to say about the nature of their work,
what they like about it, and what motivates them.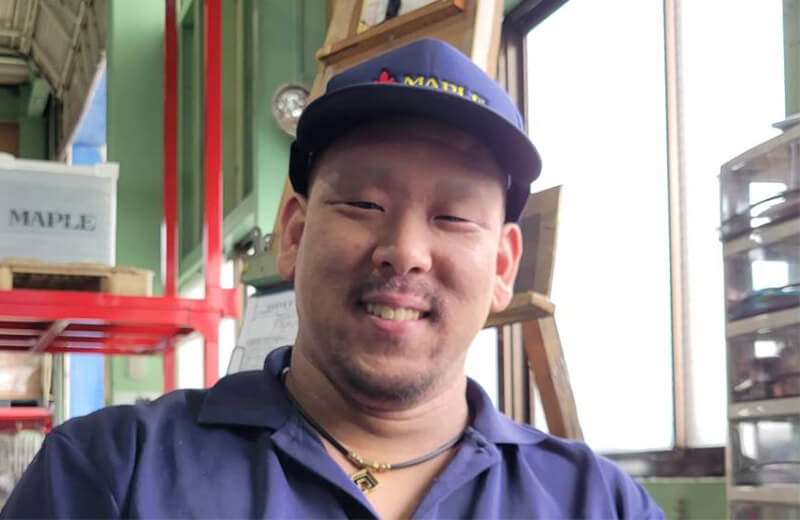 Mr. S from the Hokuriku Depot
I am in charge of product inspection. I feel motivated and happy knowing that customers can use the products I inspected without any problems. In the office, we communicate with each other regularly, which makes it easy for me to ask them when I have problems or things I don't understand. We make sure to help and support one another. I can also take day offs properly so I can spend time with my family. Having this time off also energizes me in my work.
Mr. I from the Minamikaga Depot
I handle quality control and the related daily operations. As the person in charge, I have a lot of responsiblity but it also gives me a strong sense of satisfaction when I achieve my goals. Many of the staff are friendly and the work environment is very nice. I believe that having smooth communication, not only about work but also about informal topics, have helped streamline our operations.
Mr X from Shanghai Maple.
I am in charge of the overall follow-up of orders, production, quality, delivery, shipping documents.
For product development, I also conduct market research, assist in selecting manufacturers, translate documents between Japanese and Chinese, and sometimes accompany my supervisor and engineers from the head office to inspect and audit Chinese manufacturers.
The cultures and customs between China and Japan are somewhat different, although they may seem similar.
With my many years of experience working for Japanese companies, I negotiate with local companies to avoid misunderstandings on both sides, and focus on satisfying each other's requirements to the maximum extent possible.
I feel the value of my existence and satisfaction when I see everyone's smiles of joy.
Ms. L from Shanghai Maple.
I am in charge of finances at Shanghai Maple. I handle daily cash management, tax reporting, and general affairs. It is all very detailed work, but everyday we strive to ensure that the company operates stably.